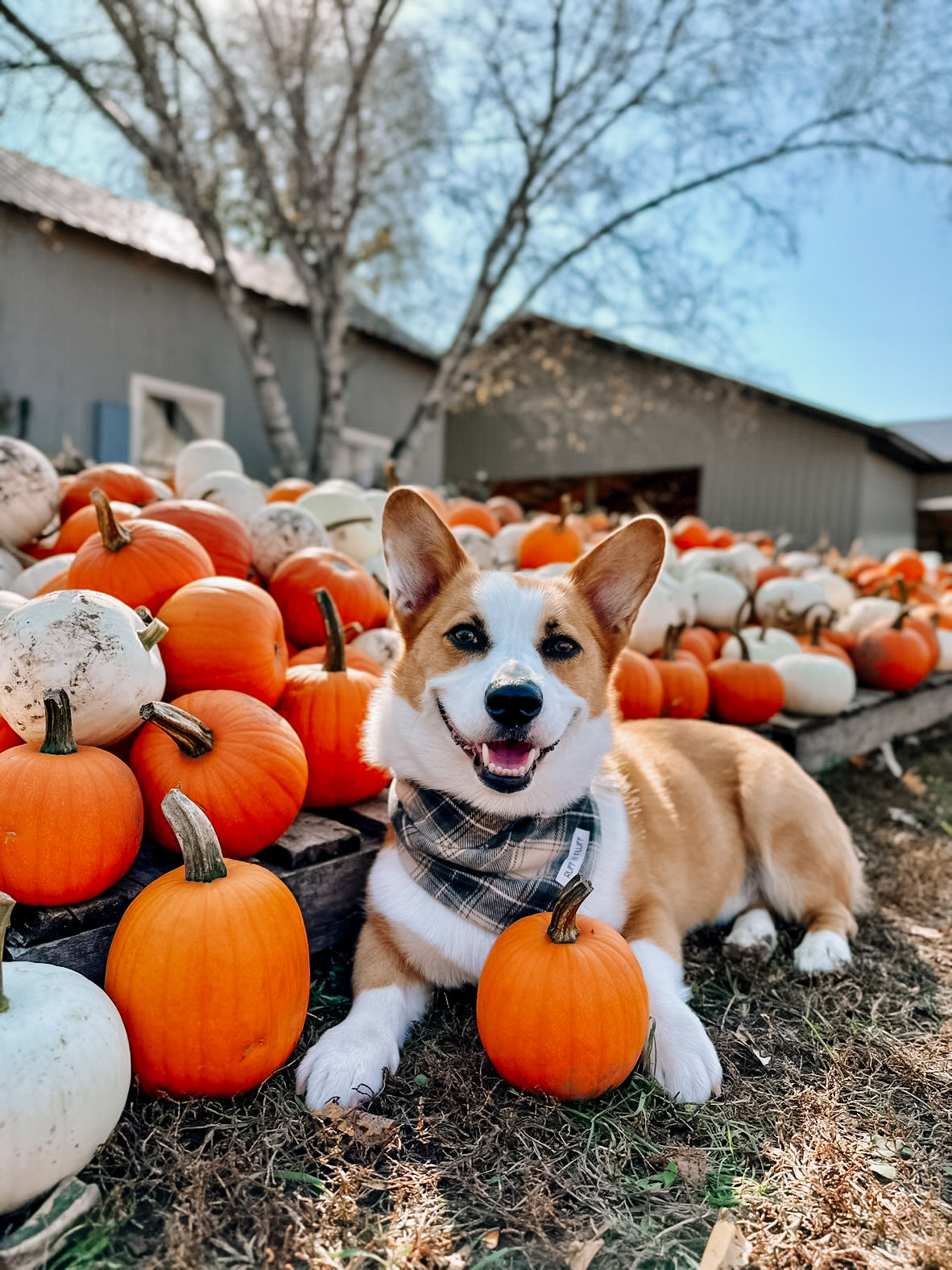 Your go to guide this Fall!
Rigby goes
1. Apple Picking
"We had so much fun finding a dog friendly place to go pick apples. Getting out and enjoying the beautiful fall weather and enjoying some yummy apple treats. We tried the best apple cider donuts & apple butter. When we got home we made Rigby a batch of Apple Crisps!"
When they tell you the apples are for everypawdy...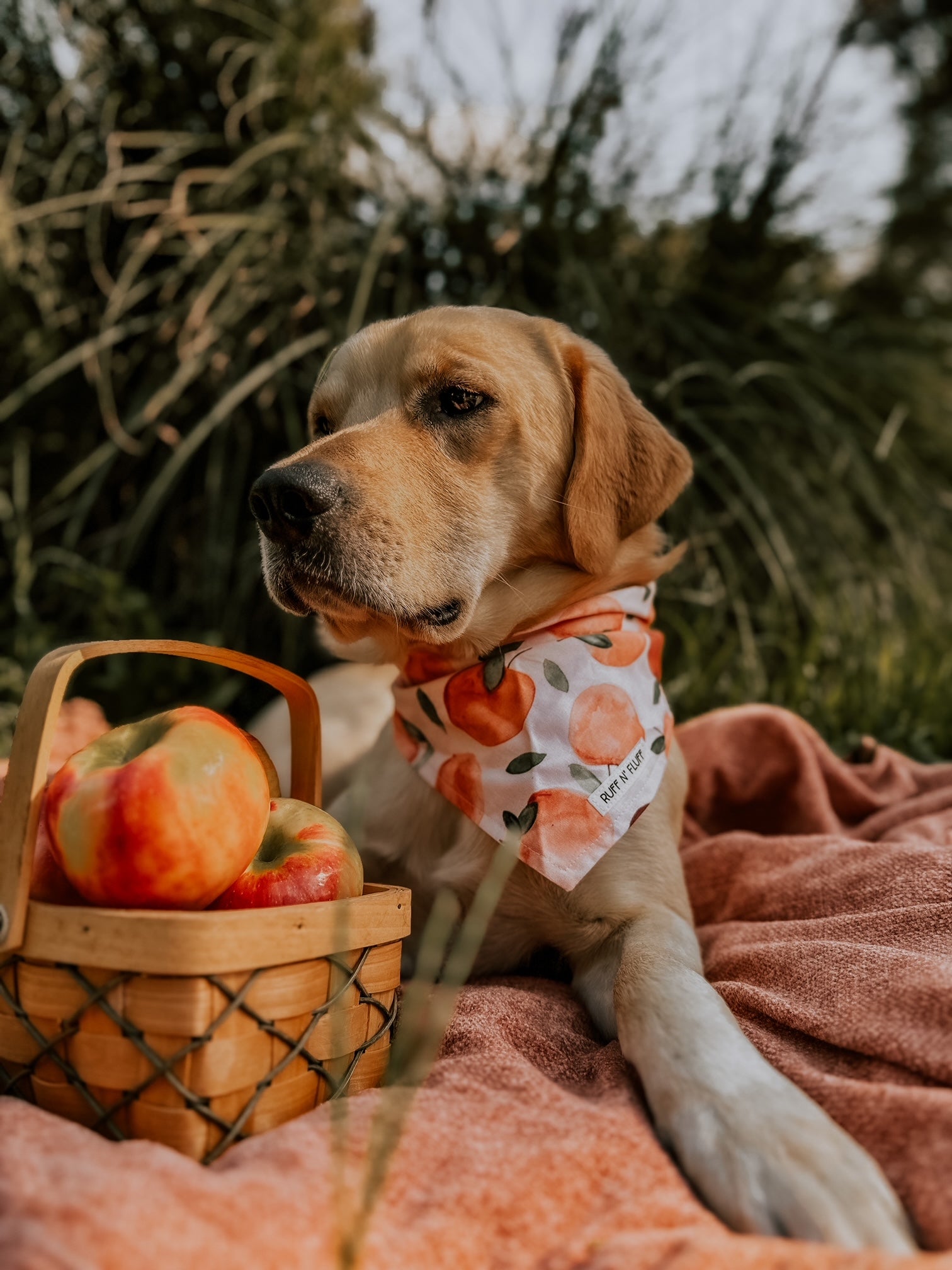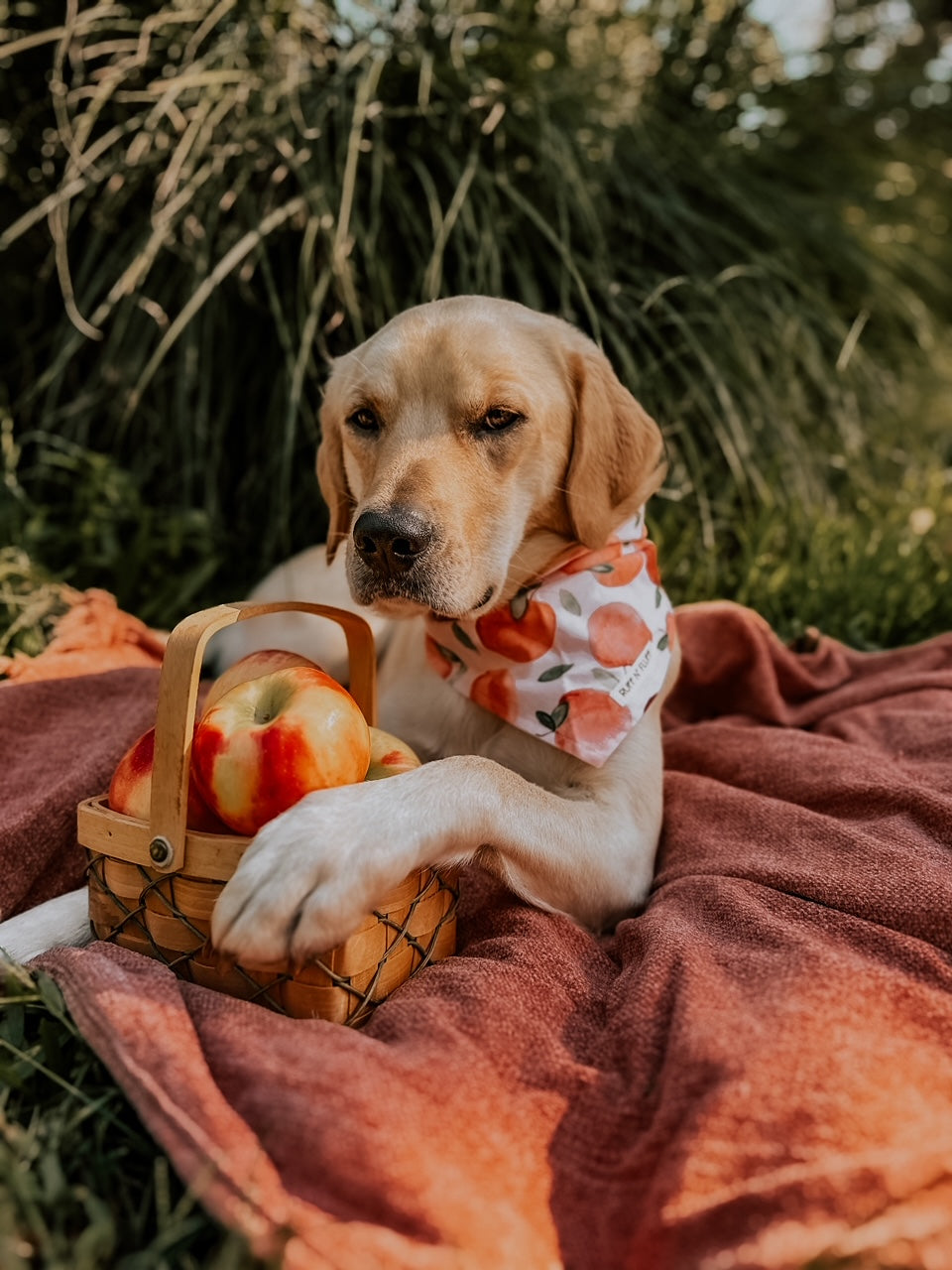 2. Exploring the Great Outdoors! (Maine Edition)
Tumbledown Mountain (Weld, ME)
"This is actually where my husband and I got engaged so it's a really meaningful hike. This is the first time we have done it so late in the fall and it was STUNNING with the leaves changing color. There is also a lake at the top we always swim in!"
Acadia National Park!
"Not all trails are dog friendly but a few are and it really is such a beautiful place in the fall. Also, less popular in the fall so you don't feel overwhelmed with other people around."
Gulf Hagas (Northern Maine)
"More of an intense trail than any significant elevation. The views are phenomenal and it's been called the Grand Canyon of Maine.
Mia (my more photogenic dog- we all have one) looked amazing with her Bandana on with the colorful trees in the background. The girls were out swimming with dad but heard me open my sandwich bag and promptly made their way back to shore. This is one of my favorite pictures of her to this day."
Toby + Stella
Take a Hike
"One of the best Fall activities you can do with your pup! Enjoy the crisp weather and beautiful views all while bonding with your best friend!" 
What's In Bella's Bag!
"Our Fall day trip must haves start with the RNF Adventure Pack which is filled with the following fashionable and functional items:

• Fall bandana
• Sunnies
• Adventure proof collar/leash set
• Fall ID tag
• Towel
• Water
• Personalized treats

This keeps us prepared for any adventure we might have all while looking stylish at the same time…and your pup will be happy to get a treat or five throughout the day!"
Fall Hikes Hit Different!
"Hiking is something Kaiya and I love to do together! We love finding new places to explore, but there's something about a crisp Fall hike that just hits differently with all of the beautiful leaves changing color!
And, of course we must always have some sort of water access along the way! Added bonus is having a cute water-wicking bandana!"
Minnesota Spotlight With Ashland!
"There are plenty of state parks and community areas in Minnesota that would be perfect for a serene autumn stroll with your furry friend.
I recommend checking out each park in your community for a picturesque experience!"
3. Check Out Local Events!
"Indiana is full of very old covered bridges (98 of them to be exact!), several of which have fall festivals centered around them! Many of these bridges were built during the horse and buggy days of the early 1800s. Our most local covered bridge is Potter's Bridge, which crosses the White River and has a beautiful trail system around it.
The Potter's Bridge Fall Festival has loads of food vendors selling the best Fall treats, maker vendors, and live music. All local covered bridge festivals are open-air and dog-friendly."
4. Farmers Market Fun
Everybody loves a good farmers market day filled with shopping local, petting all the dogs + of course... fresh flowers!
Consider taking your pup along with on your next market trip and enjoy the festivities while getting outside!
5. Trip to the Brewery
Oktoberfest with Bear
"One of our favorite fall activities is going and checking out our local breweries. This year we went to check out Oktoberfestiversary, which is put on by two local breweries and supports a local charity and the community. There's plenty of food trucks, music and Fall beers, which means plenty of sniffing and meeting new furry friends."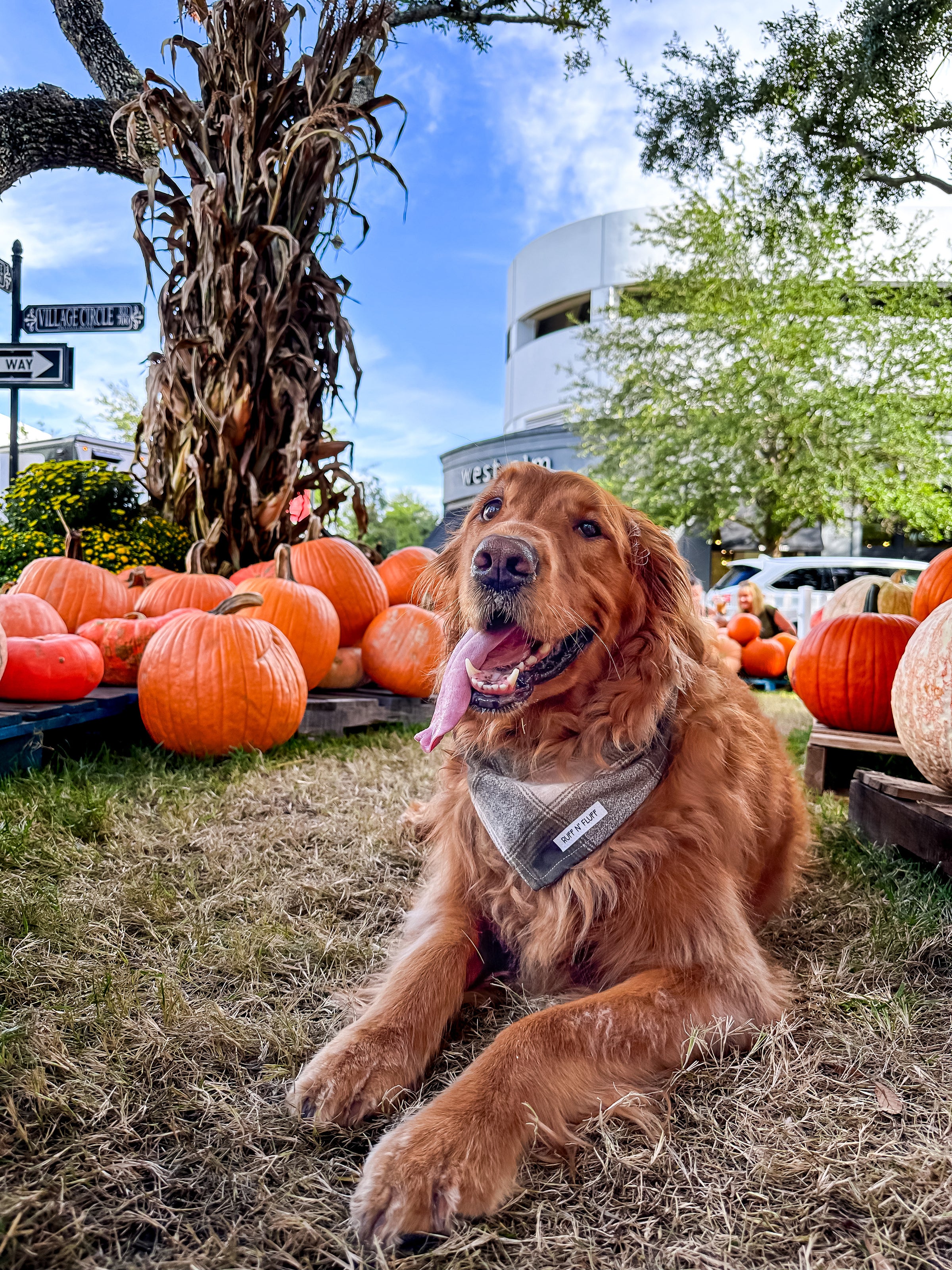 Ranger Visits the
6. Pumpkin Patch
"Our favorite Fall event of the year, is our pumpkin patch at Hyde park village in Tampa! Every year all proceeds are donated to the humane society of Tampa bay!"
PUMPKINS + MOUNTAINS!
Piper visits Munson Farms in Boulder CO.
"We visited Boulder and had so much fun picking out pumpkins to bring home with us! Piper even tried to eat one! Can't beat the mountain views - definitely one of the coolest pumpkin patches we've been to!"
Lucy exploring a patch in Massachusetts!
"Guys, I think I found one!!"
Harper posing for a pic!
Daisy Explores the Apple Orchard
"The pumpkin patch is always a fun adventure and full of exercise for your pup. There are tons of smells, so many things to look at and depending on when you go, lots of people. Ours also had an apple orchard and a sunflower field.
There aren't many in our area that allow dogs so make sure you double check before heading out.  Most importantly, have fun!"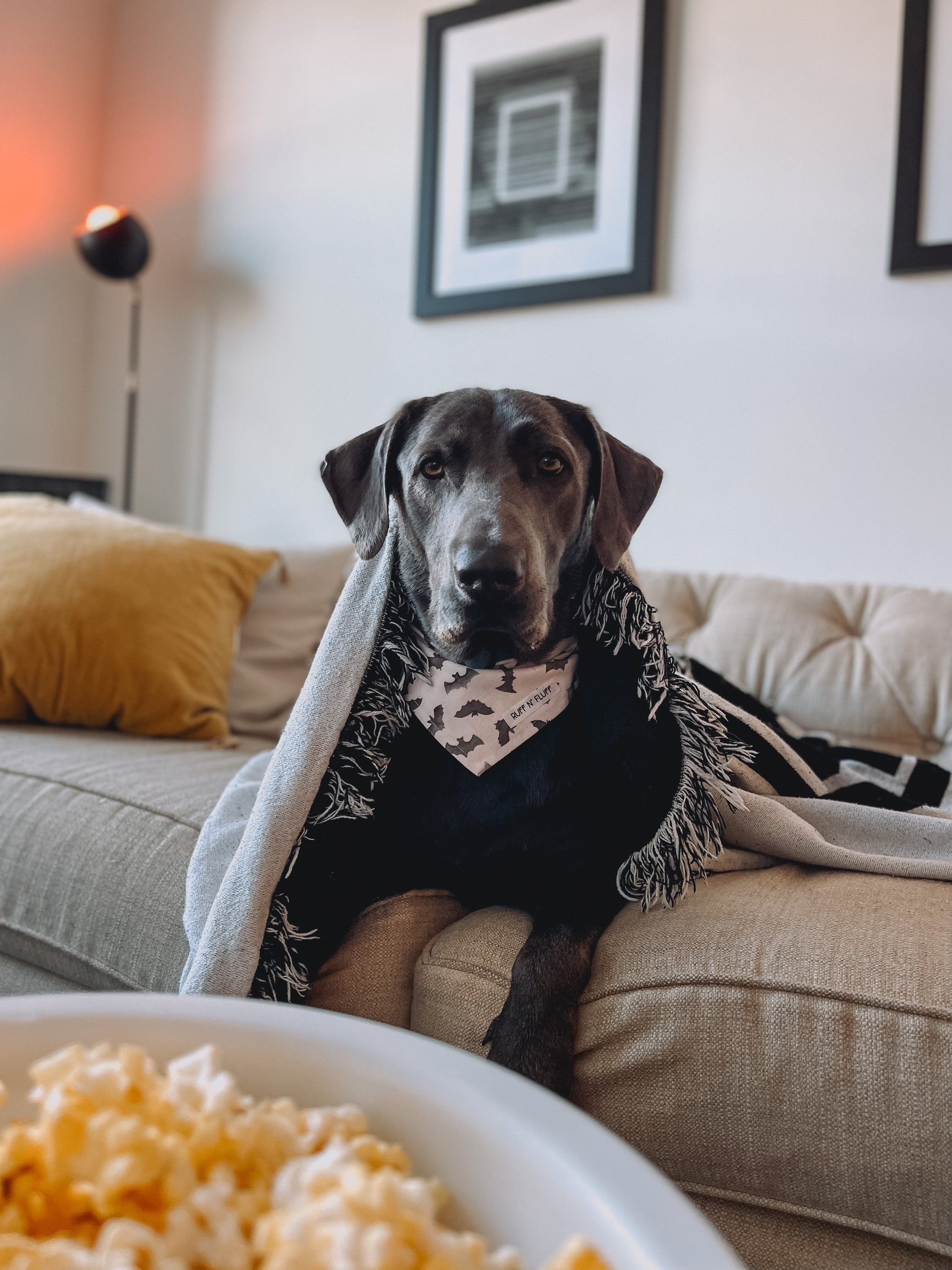 7. Howl-oween movie night
Sebby is ready for a movie marathon!
"Relaxing and watching movies is one of our favorite ways to spend a lazy fall day. With Halloween around the corner, there's no other choice but Hocus Pocus, a big bowl of popcorn & a cozy blanket."
Heather + Cash
Movie Night Fun!
"Our favorite Halloween night tradition is having a movie night! I love to have all my spooky lights on, my pumpkins lit up, and blankets and pillows on the floor to snuggle up! We always watch Hocus Pocus and the original Halloween. You can't have a movie night without treats! 
I get Cash the Bocce's Bakery Halloween themed treats!"
To Die For Recipe
(no pun intended)
"We made White Chocolate Puff Corn Crack & White Chocolate Covered Pretzels with spooky sprinkles! 
These are super easy and fun to make!"
AMUCK AMUCK AMUCK!
Hocus Pocus
Cedric is ready for the annual Hocus Pocus watch party!
We have to say, their backyard setup is goals!
8. GAME DAY FUN!
Cooper + Mila Are Game Day Ready!
Let's be honest, one of the best things about Fall is that Football Sundays are back!
I don't know what I get more excited for, the games themselves or the snacks + tailgates!
Speaking of snacks, check out two of our brand reps must try recipes below! (For the HOOMANS)
Mila + Cooper's Pick!
We enjoy going over to our friends house and watching football with fur and human friends!
Pups running wild and scoring touchdowns while the humans are enjoying all the football snacks like Cheeseball with Crackers or Lil'Smokies wrapped in bacon!
Cheeseball Recipe
What You'll Need:
16 ounces cream cheese , softened

2 cups freshly grated sharp cheddar cheese (avoid pre-shredded cheese)
2 green onion , chopped

1 teaspoon dried parsley 

1/2 teaspoon garlic powder

1/2 teaspoon dried oregano 

dash freshly ground black pepper
2 cups of chopped bacon 

2/3 cup pecans , finely chopped
PRO TIP: I like to add in a little bit of Ranch spice for extra yummy taste 
Mix it all together and enjoy!  
Show Your Team Spirit!
Absolutely love these jerseys, makes for perfect game day attire!
Find your team below:
Shop jerseys!
Maple's Dog Friendly
Cheeseball Recipe!
"There's nothing like watching football on a crisp fall Sunday afternoon. The windows are open, a Fall candle is lit, the sounds of football echo through the house. While we typically wear a jersey to cheer on our favorite team, the New York Jets, we also love to get Maple involved in the fun by dressing her own football gear on game day!
Another thing we look forward to on game day is the food of course! We made a football shaped cheese ball for the humans & small football shaped cheese balls for the doggos.
Tip: if your dog gets bored easily, stuff a Kong with the cheese mixture & freeze it for a long lasting treat!"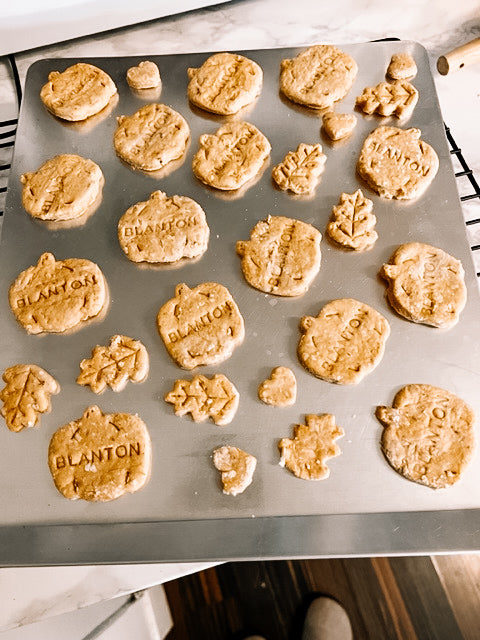 NO TRICKS JUST TREATS
9. Must Try Tasty Treats!
"Pumpkin spice and everything nice for the Fall season!  What better way to usher in the cozy vibes then delicious smells of pumpkin puppy treats?!  Try making your own treats; it's pretty simple and a fun way to customize. You can use any regular household cookie cutters but we especially love the Loki Doki Dog designs and customizations.

Check out this delicious pumpkin recipe we love or invent your own!"
Blanton's Pumpkin Dog Treats
1/2 cups flour
2 eggs
1/2 cup canned pumpkin
2 tablespoons peanut butter
1/2 teaspoon salt
1/2 teaspoon ground cinnamon
1 teaspoon water (if needed)

Steps: combine ingredients, roll out dough about 1/2 inch thick, cut with cookie cutters and bake for about 40 minutes at 350 degrees!
Yer a Wizard Duncan!
"The sorting hat has spoken, placing this golden snitch of a retriever into the official House of Ruff N Fluff!
To celebrate the wizarding season, Duncan helps with a batch of Harry Potter's ™ Butterbeer Cookies featuring a magical combination of butterscotch and white chocolate."
Butterbeer Cookies
10. Match Your Pup!
Hey RNF pals!
"Leah + Tucker here! Fall is definitely our favorite, especially because it's sweater weather & flannel time.
Fall is all about having that PERFECT sweater! Simple is best and we snagged a great one off at SHEIN, paired with my favorite Levi's and Vans! All for a comfortable, yet cute, Fall adventure outfit!!"
Sweater Weather Staple!
Fall Means Flannels!
With Donnie, Mac + Megan
"Fall weather means it's officially flannel season! We are so excited that we get to wear all of our favorite flannels this Fall!"
Target Flannels!
11. Pumpkin Heads Trending Photoshoot
With Jess, Finley + Zeke!
"Use lots and lots of treat! Definitely keep it a positive experience! Some dogs do not like things put on their head so don't force it! Next time I would use fake pumpkins instead of real ones due to how heavy they are!"
12. Enjoy the Season From Anywhere!
"In O'ahu, Fall is pretty nonexistent, so one of our favorite traditions is heading to two of our local Lowes. We do training, and Tucker gets to pose with all his new, creepy friends! We also like to check out the Fall flowers and set ups there! Lowes has not only become a favorite place to access train, but a favorite to enjoy all the seasonal decor, too!!"